How2Say is a terminological exploring tool for multilingual corpora. It allows to find for a given expression such as Pommes de terre: the super terms « fécule de pomme de terre » translation propositions for a target language « potatoes » eventually some synonyms « papas (ES) » How2Say works only with the terms used in the corpora. Consequently, it gives the most exact description of the terminological usage within a specific organization and/or a specific domain. How2Say uses the corpora that can be aligned using the tools of myPREP from the Olanto Suite.
Demo
Two demos are available:
Start How2Say-MULTI-UN
Start How2Say-DGT2014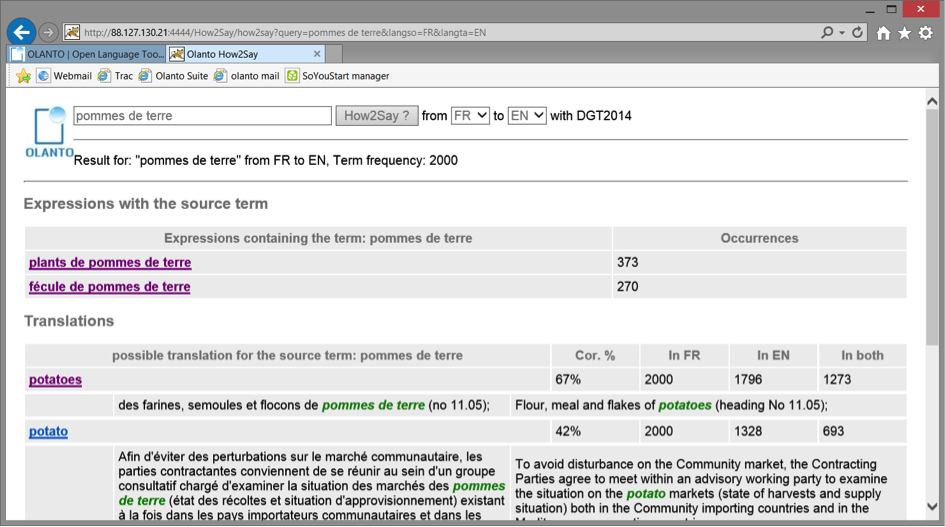 Downloads
How2Say for Windows, 64-bit version (tested on Windows 7 and Windows 2008 Server)
The How2Say installation files can be downloaded here (275 Mb).
SHA1 key: 0db9dfef092a160523a1d62c5a7278399e0ff893
Documentation
The procedure to perform a standard installation of How2Say on a dedicated server running Windows is described here.
source & licence
Licence AGPL v3 - sources @GitHub